"We're slowly becoming an overnight success!"
"Who is that awesome singer?"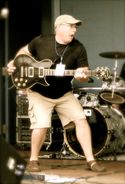 Andrew "A.J." Conolly:  Lead Vocals / Guitar
I know what you're thinking, "Why can't my band have such a great singer?"  Well, it's because A.J. is
our
singer.  Ha!  Not only can he hit notes only canines can hear, but he can dance like no white man should.
A.J. Has fronted several successful bands from Kenosha to Milwaukee (bands like
2-Sides Live
and
Giant Steps
).  He respects his audience and is always thankful for their support.  
"Your bass player rules!"

Paul Balistreri: Bass Guitar / Vocals
Paul has the energy of a ferret on a double espresso.  Can he dance?  No.  Can he move?  OH YEAH!  
(Don't try it at home or you'll need a neck brace in the morning.)

His 5-string Music Man bass is his #1, but you can expect to see Paul sliding around his fretless on a few tunes.  

Say "Hi" to Paul when you see him.  He may be the nicest guy you'll ever meet.
"I've never heard a guitar do that!"


John "J.T." Tyler: Lead Guitar / VocalsThere's loud. There's louder.  Then there's J.T.  Don't ask him to turn it down, he won't hear you.

J.T. loves playing the guitar.  He loves the gear too!  Check out both of his one-of-a-kind Suhr 6-strings.  Or his handmade Guytron amp.  Or his Kemper/AxeFX rack unit.  Or that monster footswitcher that controls it all.  

If you're a connoisseur of tone, you'll dig J.T.'s rig.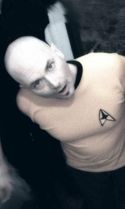 Don Sieg:  Drummer / Manager

How did this geek get in such a killer band?  Hey, even a blind squirrel finds a nut sometimes.  
(Plus, he owns the P.A.)

All joking aside, Don's a solid drummer who, like J.T., is a fan of his instrument.  While he usually shows up with his white DW Performance drum set, he might surprise you with his grey swirl DW Collector's Series or some other tasty kit.

(PS  Don doesn't sweat, he makes his own gravy.)